This evening, just after 6 pm I was cycling home from work and thinking about what had happened 24 hours earlier. It was dark but dry and cool. At the same time last evening as darkness had fallen this years Tour de France victor Bradley Wiggins was knocked off his bike by a lady in a van who was pulling out of a petrol station. There followed a huge outpouring of concern about the welfare of the great champion. Multiple police cars had rushed to the scene along with the fallen heroes wife and children. Most of the cycling world joined the British public on the edge of their keyboards waiting to see how serious the injuries were.
Ribs and wrist broken, was the initial diagnosis given by the Twitter medical department. The Twitter tabloid department then relayed the descriptions of the Tour champion doubled over in anguish having to endure further torrents of acute pain as he hobbled over in his cycling shoes trying to restrain his wife from attacking the unfortunate young lady who was driving the van. Next came relief as the Twitter medical department came back online with the news that it was just bruised ribs and hand with the Olympic champion being held in hospital for observation overnight.
Cycling home this evening I took notice of a few things. Approaching roundabouts, junctions and petrol stations I always try to make eye contact with the driver. If I fail, I take it as given that they don't see me and act accordingly. If Bradley was doing this last evening he might have been home much sooner. I'm usually lit up like a Christmas Tree with a Light & Motion 400 Lumen light along with a flashing Fibre Flare on front and have 2 Blackburn flashing LED'S and another Fibre Flare on the rear plus a hi-viz jacket. Drivers still sometimes manage not to see me but I expect that so it isn't a major issue. It would be interesting to see how well lit up Wiggins was last night.
I tried to look ahead of the lights of oncoming traffic and noticed how difficult in poorly lit areas it is to see what is on the road ahead of cars travelling in the opposite direction and wondered if the team car travelling behind Wiggins was lighting the road ahead from his point of view but hiding him from oncoming traffic.
The blanket coverage given to the accident in the media is great as it raises awareness of cyclists in the minds of motorists but one part that I hope is not picked up be mainstream media is the picture of Wiggins as he was driven away from the hospital today.
For a man who proclaims to hate being seen as a celebrity, and someone who constantly talks about how much he wants to be just a normal guy and who shaved of his trade mark sideburns to avoid being recognised he is sometimes a contradiction in terms. A normal guy or a truly professional sportsman would never think of raising his middle finger towards a cameraman as he is being driven home. This is the type of behaviour normally associated with criminals leaving court or boozed up Rock stars on the way down hill. This is not acceptable behaviour for a Sports champion.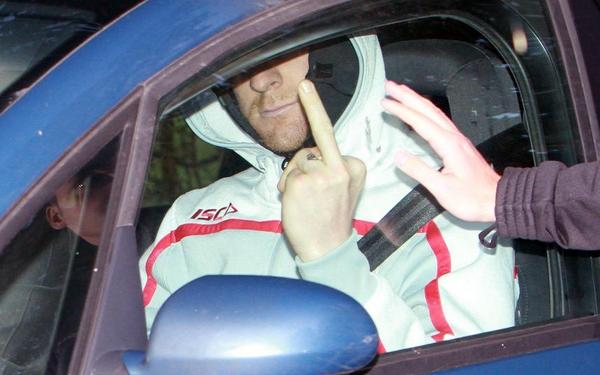 Using extreme foul language in a press conference at this years Tour whilst in yellow was extremely disrespectful, especially from someone who constantly effuses his passion for the history of the sport.
As team leader of a cycling team sponsored by a media company it is amazing how unprofessional his media conduct can be, but perhaps this says something about the people at the head of that media company itself too. Some call it refreshing and perhaps they are right, but personally I prefer to watch the antics of someone like Peter Sagan who can be entertaining without being obnoxious.
Winning the Tour and being seen as a clean rider gains a huge amount of Kudos. But to treat a person, a group of fans or a nation of supporters with respect costs nothing but it really does mean a lot. If Bradley Wiggins really does want to be seen as just an ordinary guy on the street he should treat people with the respect any ordinary guy on the street would do.
Barry
www.worldwidecycles.com